GUD PDF for just $2.05!
This price has been selected JUST FOR YOU! Want a different one? REFRESH THE PAGE. ;)
You can get our PDFs for anywhere from $0.30 to $3.50. Like what you see? Lock your order in with PayPal BUY NOW. Want something different? Refresh the page--we're happy to provide instant literary and genre gratification at a fraction of the cost--for a limited time only!.
Register on the site for free and get a sample of the current issue (one story or poem will be selected for you randomly).
---
Or grab the latest issue for $3.50:
And get a free copy to send a friend!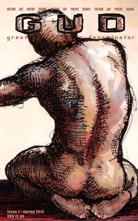 From the cover art, "Danzante" by Fernando Martí, to the "Invitation" from poet Alicia Hoffman at the close of the issue, GUD 7 will entice you into a dance with words and images that will grab hold of you, take you out of yourself, and leave you breathless. Joseph A. W. Quintela's "Witches' Dance" leads off, followed across the stage by a bamba with the (very earthy) divine, choreographed by Okasha Skat'si. "Coconut Pie" by Joshua Ben-Noah Carlson takes you for a turn in an awkward two-step, while David Gullen's "Just War" whirls you smoothly into an alternate world that nonetheless moves to the inexorable rhythm of history.
As with any good collection of art, GUD 7 has love, death, family, conflict, loss, and healing. But though the themes are timeless, we guarantee you've never experienced anything quite like the stories, poetry, and art you'll find juxtaposed here. The work in GUD 7 spans every kind of stylistic approach and throws down the gauntlet to traditional genre categories--there's even an essay on genre categories themselves, by cognitive scientist Eve Sweetser. GUD 7 will stretch your ideas of the possible: what art can be, what humans can be, what reality can be. It will pick you up out of the world you thought you knew and set you down somewhere totally unknown, where you can't even trust your own perceptions--but when you look back, maybe you'll understand something new about where you came from.
GUD 7 opened to submissions in 2009 and, due to setbacks and circumstances, it was seven years in the making. But the writing and art wouldn't let us go--we couldn't abandon the dance. So here it is!