News: Issue 7 Cover!!! And a Very Belated Progress Update
Thursday, January 23, 2014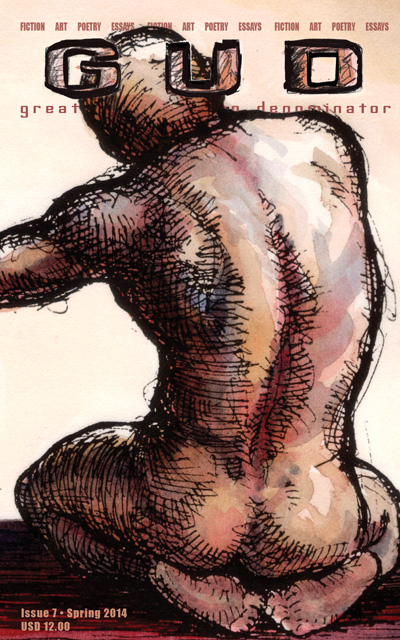 I'm thrilled, and a bit relieved, to finally release the cover for GUD Issue 7! The proofs are with contributors for, hopefully, the final round of approvals (we expect a slew of updates to their bios!).
It's hard to believe how much time has passed since our last update, about our Kickstarter campaign to get this issue out the door. My son is 11 months old. We've had two more server failures—the luck is uncanny. Personal, financial, and life crises for every one of our staff that was working on the issue.... We lost time to thinking that the person best at any given thing would somehow find the time or wherewithal to make it happen—and to learning new skills to fill the gaps of staff who were no longer able to work on the project. Still, each time things progressed just a tiny bit, it was easy to believe that the issue release was just around the corner—until it was backburnered again by another life crisis.
A publishing process already slowed down by all of those issues was compounded by getting the rewards together for our Kickstarter campaign. It was more effort than we imagined writing truly, Vogonically awful poems for our wonderful supporters--and then we found the logistics of getting this (steaming) pile of verse out into the world as much a challenge as getting the magazine itself out.
We hope our readers and contributors will forgive our lack of communication over the last year or so—or if you can't forgive us, that you at least won't take it out on the issue! It's a beautiful issue that I can't wait to share with everyone, however belated it may be.
Once the bios are firmed up and the contributors have signed off, PDFs will wend their way to Kickstarter backers and into the queue at the printers'. And then, we unleash GUD 7 on the world!
- reddit, digg, facebook, stumbleupon, etc... please! ;)
7 comments; 3 subscribers
Do you have a comment? Log in or Register; registration is quick, painless, free, and spam-free (unless you ask for it)