Review: Nina by Liz DeJesus
Monday, October 8, 2007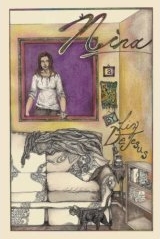 Nina
by Liz DeJesus
Blu Phi'er Publishing, October 2007
168 pages; $12.99
ISBN : 0977203492
I was instantly attracted to the beautifully-drawn cover of Liz DeJesus' Nina. It promised a fantasy just the other side of reality, and this is exactly where DeJesus strove to take the reader. This is the tale of Nina, a never-born but oft-imagined daughter come to life.
Rachel Ramirez, talented artist, suffers miscarriage and betrayal and copes with these losses through her art. Over and over again, she paints her would-have-been daughter Nina at different stages of her life. One of these paintings--Nina as an adult--becomes sentient and begins to communicate with Rachel. Here begins the story.
Nina steps out of her canvas. We follow this innocent through the joys and heartaches of life, and we learn that she has been presented with a choice: to be born into this world, and love and suffer as we all must, or to safely return to her painting and remain there forever. She is given one year to make her choice.
DeJesus' idea is a solid one. Works of art have come to life before in literature—witness, Pygmalion—but in this case, the point of view is that of the artwork/character herself. DeJesus works a twist or two into the plot, but mostly, the story is straightforward. It draws its own line between parable and full-blown novel. The plot advances quickly. The writing could have been more a touch persuasive; Nina's character's combination of naiveté and inherent knowledge was a bit of a leap of faith for me, but Nina kept me reading along.
Nina bursts with truly heartfelt writing; it reads like a labor of love. It's one of those stories you imagine had been growing inside its author for ages, until the moment finally came to commit it to paper. DeJesus created a world in which paintings-become-flesh have a place, and we all have a lesson or two to learn. If a chick lit fantasy with a spiritual journey thrown into the mix is something that entices you, pick up a copy of Nina.
- reddit, digg, facebook, stumbleupon, etc... please! ;)
7 comments; 0 subscribers
Do you have a comment? Log in or Register; registration is quick, painless, free, and spam-free (unless you ask for it)