First Come First Sale!
GUD Issue 5 on Sale for the first time!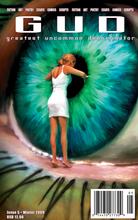 The one, the only--GUD issue 5! We're offering it up (PDF) for just $0.25 today (Tuesday, Aug 24, 2010)! And then $0.25 more each day after. Get it soon and get the best deal. Share it with your friends and have them owe you one. ;) Or if you're new to GUD, grab our full bundle: all six issues (0-5) for the low price of $3.00 the first day, $0.50 more each following day. And as always you can create a free account above for a teaser from the latest issue! =)
Crossed Genres
NEW: CG's 1st-year anthology, Crossed Genres Year One, is HALF off!
Crossed Genres is offering bundles of 6 of its intriguingly-themed issues in a similar vein--$3.00 the first day, $0.50 more each following day. Get them while they're hot! Bundles of issues 10-15 or 16-21 are available now!
Residential Aliens
Price slashed to $1.50 for a PDF version of a 200-plus-page anthology! Showcases 24 short stories from featured authors Andy Bowers, James K Bowers, Rob Carr, Patrick G Cox, D S Crankshaw, Merrie Destefano, Dan Devine, George L Duncan, Dave Gudeman, Rick McQuiston, Alex Moisi, Lyndon Perry, Curtis Schweitzer, Stoney M Setzer, G Glyn Shull Jr, and Gerry Sonnenschein. Check it out now!
Shimmer Magazine
Shimmer is "an enthusiastic zine with a penchant for elegiac stories and reaching out to new and established writers." They're offering 20% off any or all titles! Just be sure to enter the checkout code GUDIsAwesome.
Their latest issue is themed "The Clockwork Jungle Book": "[A] collection of twenty fabulous steampunk animal tales. We've got an origin story from Jay Lake, and a tale of the end of the world from Sara Genge. Stories set in London, China, Alabama, Castle Frankenstein, and the moon. We've got snakes and dinosaurs, elephants and wolves, bees and fish, birds and goats, and yes, even a monkey or two."
M-Brane SF
M-Brane joins our sale offering, for a limited time—so limited it could end at any moment—12 issues for just $4! Also books for just $2! That is, as they put it, "stupid cheap". Go check it out!
Bull Spec
PDF version is available free; print version at cost—but you're of course welcome to pay more if you want to support Durham's newest star of speculative fiction. Check out their preview on Issuu!
---
- reddit, digg, facebook, stumbleupon, etc... please! ;)
---
Want a print copy of GUD, a GUD subscription, or an individual PDF? See our regular subscription page.
---
DISQUS:
blog comments powered by

Disqus