Review: Triangulation: End of Time edited by Pete Butler
Tuesday, November 20, 2007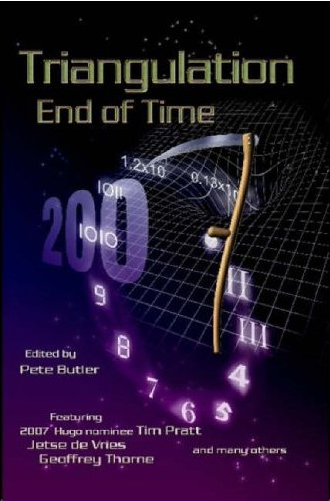 Triangulation: End of Time, edited by Pete Butler
PARSEC Ink
ISBN: 9780615152806
Paperback: 155 pages
$12.00
Triangulation: End of Time is a handsome paperback offering a mixed bag of twenty stories on the theme of 'The End of Time'. As interpreted by the various writers, this can mean anything from America destroying almost every other country--and not in the way you'd expect--to a family's lease of borrowed time running out.
The collection opens with a wryly humorous piece by up-and-coming author Ian Creasey. It's too short to showcase his abilities, but does make good use of the first person narrator's 'closed world', leaving the reader with a sense of the narrator's unreliability, without being able to prove anything.
The next story, America is Coming! by Dario Ciriello, is easily my favourite of this collection. Although the narrative tapers off a bit at the end, the opening throws the reader into a fantastic end-of-world scenario, where the American continent is literally chewing up Europe, and the only way to escape is, ironically, to risk an almost-suicidal voyage to the relative safety of the destroyer's shores. Imaginative and engaging, this story is worth the collection price on its own.
It isn't all fun and imagination, however. Jeff Parish's That Ain't a Mosey stands out for being a routine zombie story, set in the American West. No departures here from convention, I'm afraid, and the story walks an uneasy line between the truly global--America is Coming!--and the very personal--Final Episode (by Katherine Shaw). Is the possible end of the American West truly the End of Time? You decide!
I enjoyed this collection, and what pleased me particularly was the variety of takes on the theme. No two stories are alike; no two authors have approached the theme from the same direction. Well worth a read.
- reddit, digg, facebook, stumbleupon, etc... please! ;)
2 comments; 0 subscribers
Do you have a comment? Log in or Register; registration is quick, painless, free, and spam-free (unless you ask for it)