Review: Amityville House of Pancakes: Volume 3 edited by Pete S. Allen
Monday, May 12, 2008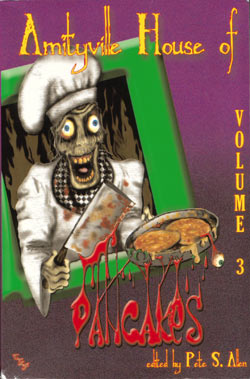 Amityville House of Pancakes: Volume 3 edited by Pete S. Allen
Creative Guy Publishing, 2006
284 pages, ISBN 1894953355
$14.95 / Paperback
AHOP is an annual collection of humorous specfic wrapped up in "hot buttered weirdness" [Don Muchow]. The third volume is built on three novellas with a bit of Crypt-Keeper-style book-ending.
"The UnHardy Boys in Outer Space", by Gary K. Wolf and Jehane Baptiste, is the shortest of the three, a tale of two misfits coming into their own on the /ISS Alpha VI/. Misfit numero uno is Father Jack Edwards, a well-meaning but run-down priest; and his best pal is "science fiction author Michael Henry", a none-too-subtle foil for co-author Wolf's "Roger Rabbit" fame (I get the strong impression he's tired of being referenced as such). Father Jack and Michael Henry have banded together against "The Fun Posse"'s pranks and the crew-as-a-whole's rejection of their existence on the space station, and the novella fills us in on much hilarity not directly related to the throughline--the characters and supporting characters are fleshed out and have a satisfying amount of arc for the length. The story is pulpy and inventive, but primarily it's a fun ride, and I recommend it for that.

The second course is K.M. Praschak's "Paragon", which takes the science fiction much farther into space (and fiction). The humor for humor's sake is turned down a few notches, but there's definite twinges of camp in this space opera. Mankind has spread through the stars, there are other races (some related, some otherwise?), strange and disparate cultures and religions and technologies... and those are just the spices we get infused with this twisted action-hero-esque glimpse of a battle determining the fate (and origin?) of the universe. The story's plot crosses generations and millennia, but we're introduced to it through a personal vendetta against Captain Meriwether, which has his crew and ship being towed out to a black hole to be disposed of. I'm generally hesitant when any story plays the "epic" card, but this one made me believe it within the implicit rules of the story.

And then for dessert, we have "Dalton Quayle and the Curse of King Tuti Fruiti" by Paul Kane. This nutty confection is a non-stop groan-fest (and I don't mean the mummy) that had me physically wincing as I read. While I enjoy puns in day to day conversation, and as a social game, this was the densest such work I've ever tried to read (and I've enjoyed a Xanth novel from time to time). The supernatural/mummy genre is plumbed to its roots, here, and a few cherries may have been harmed in its making.

AHOP is definitely a different kind of diner--and if you're the sort that would eat there, well, you already know who you are, I think.

- reddit, digg, facebook, stumbleupon, etc... please! ;)
50 comments; 0 subscribers
Do you have a comment? Log in or Register; registration is quick, painless, free, and spam-free (unless you ask for it)