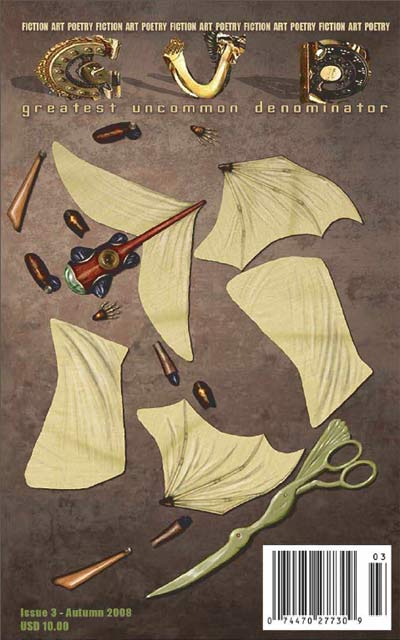 GUD Vault
Issue 3 :: Autumn 2008
Issue 3 is crammed full of stories and art, with poems, Flash fiction and an entertaining report to leaven the mix. Whether we're battling a mechanical daemon in "A Song, a Prayer, an Empty Space" or experiencing jealousy towards unusual rivals in "Soon You Will Be Gone and Possibly Eaten", we're following the theme of Mechanical Flight into strange and unexpected places.

Flight, the dream of humanity for years without number, has come a long way since the Wright brothers flew almost the length of a Boeing 747 using a lawnmower engine. The US Space Shuttle takes off like a rocket and lands like a plane. An ice runway has been built in Antarctica to facilitate flights from Hobart. Solar-powered aircraft grace our skies. And GUD Issue Three seeks to fly to even stranger places--why not take your seat, buckle yourself in, and enjoy the ride?
BUY NOW—$3.50 PDF, $12 Print
or download teaser epub...
stories
poetry
reports
art
---
Other works by or including our contributors this issue: